CHARLES G. WHITE HAS PASSIONATELY AND DILIGENTLY FOUGHT FOR JUSTICE FOR OVER 34 YEARS
COMPASSIONATE COUNSEL EVERY STEP OF THE WAY
Charles G. White is recognized as one of the most dedicated and trusted attorneys in South Florida.
Being Arrested and Charged With A Crime is a Major Event!
From the humiliation of an arrest to the endless court appearances it is an event that can change a person's life. Charles G. White understands your challenge and will be your compassionate counsel every step of the way. He will do all he can to help you avoid the prospect of conviction and jail.
Charles G. White is an accomplished Criminal Defense Lawyer.  Mr. White has built his practice defending people against prosecutions in Federal and State Court at every stage; including pre-indictment and Grand Jury Witness representation, through jury trial, as well as to appeal or post-conviction. If there is way out of  your legal problem, Charles G. White is the defense attorney who can find it.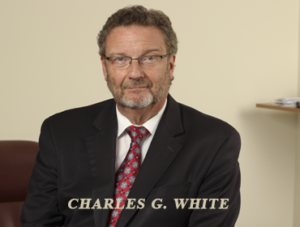 Vigorous representation of his clients has taken Mr. White into Federal Court throughout the United States including Puerto Rico, Los Angeles, New York, Boston, Detroit, San Antonio, Mobile, and throughout Florida, but he has practiced extensively and has tremendous knowledge and experience in the local Federal Courts in Key West, Miami, Fort Lauderdale, West Palm Beach and Fort Pierce.
Integrity: We work with clients and prospects openly, honestly and sincerely. When we say we will do something, we will do it; when we say we cannot or will not do something, then we will not do it.
Excellence: We are satisfied with nothing less than the very best in everything we do. We will continue to raise the bar for everyone.
Innovation: We embrace the use of technology to help us run our business and improve the quality of services we provide our clients.
Respect: We treat clients, opposing counsel, Court staff and the Court as we would like to be treated.
CHARLES G. WHITE IN THE NEWS
Charles G. White knows how to handle a criminal case from every angle and provides YOU with the strongest possible defense.
Mr. White is an ex-prosecutor from the Miami-Dade State Attorney's Office

Mr. White is a former Assistant Federal Public Defender for the Southern District of Florida, stretching from Vero Beach to Key West.

Mr. White has handled major crimes as a defense lawyer in Federal and State Courts throughout the United States. Charles is "Death-Qualified" in Miami-Dade County and Broward County – Able to handle every aspect of a capital murder case

Mr. White is a Registry Attorney for the Capital Collateral Commission (State Agency representing death-row inmates in post-conviction litigation)

Mr. White has extensive experience in raising Fourth, Fifth, and Sixth Amendment issues in order to suppress evidence, and derail prosecutions